An ongoing series of video art vignettes from this 'brave new' epoch that we suddenly find ourselves in: the Anthropocene
AnthropoScene I : Breakdown (4 min version, 09.2018)
The traffic just seems to be getting worse every day at Iceland's iceberg lagoon, Jökulsárlón...
Dur: 4'08" / Cinema 4K HDR video with stereo audio. Made during a residency at SÍM Iceland. EMBARGOED: PLEASE DO NOT CIRCULATE.
(Shortened 1'00" version licensed by the United Nations during 2019 for the COP24 Framework Convention on Climate Change).
Australian artist-filmmaker Adam Sébire uses dark humour to approach the climate crisis at one of Iceland's fast-disappearing glaciers, Breiðamerkurjökull.
Its astonishing iceberg procession is reimagined here as a traffic jam of cinematic proportions.
AnthropoScene II : Tideline
The tideline on an island's black-sand beach rises ever higher.
Dur: 2'30" / HD single-channel, stereo audio.
First exhibited as a work-in-progress at the SÍM Gallery in central Reykjavík during Nov/Dec 2017.
Filmed with a drone off remote eastern Iceland, reverse motion creates an eerie sense of prolepsis; a previsional prescience of inexorably rising sea levels.
Video © 2017-2018 Adam Sébire (AU) www.adamsebire.info
Music © 2018 Martin Franke (DE/NL) www.hethoutenhuis.org
AnthropoScene III : Hellisheiði
Video triptych, 2018. 3 HD screens (or 2 plus core sample in lit vitrine), 2.1 stereo audio. Duration: 3mins.
The Climeworks/CarbFix2 project at Hellisheiði, Iceland is the world's first industrial-scale "carbon scrubbing" experiment to capture carbon dioxide (CO₂) directly from Earth's atmosphere. This CO₂ is mixed with water and pumped through domed injection wells into the volcano below, where it becomes petrified as new rock.
Most climate change policy tacitly assumes the success of such geoengineering experiments — despite their unknown long-term costs and consequences.
BACKGROUND:
At COP21 in Paris, December 2015, the world's leaders stated their "aspiration" to limit global warming to an upper limit of 1.5ºC this century. On the planet's present greenhouse gas emissions trajectory there is no way to achieve this without geoengineering (sometimes termed climate engineering): using technology — most of it unproven and with unknown potential side-effects — to "modify" our climate.
Carbon capture and storage (CCS) is arguably the most benign of these technologies. But despite being both difficult and expensive it has proven politically attractive as a "technofix", perhaps delaying decarbonisation. Indeed all forms of climate engineering potentially come with what ethical philosophers such as Clive Hamilton identify as "moral hazards". Many forms of geoengineering essentially propose that we "hack" the Earth's systems.
Hellisheiði in Iceland is the other-worldly site of the CarbFix2 & Climeworks projects. Since October 2017 this test site has been capturing carbon dioxide directly from the surrounding air. It mixes the CO₂ with water, injecting it via domed wells into the basalt rock formations surrounding Hengill, an active volcano, where it mineralises: anthropogenic carbon dioxide sequestered as new rock.
Australian video artist Adam Sébire is drawn to this site for its modern-day alchemy and for its Promethean overtones: an unshakeable faith in the technological mastery of Homo sapiens.
In the video triptych, one of the three screens investigates the experiments at Hellishei∂i (the injection wells of CarbFix plus Climeworks' white cube "carbon scrubber" DAC module, a prototype for what's expected to be thousands spread across the planet). In another, a core sample of the sequestered CO₂ — now mineralised as calcite within the basalt host rock — appears as a quasi-mystical object in a vitrine. The third screen is ambiguous: also set in Iceland, but in a future geological era where complex lifeforms have disappeared and where the planet appears to be correcting an atmospheric imbalance. Geological processes reverse. After only a few hundred thousand years, equilibrium — homeostasis — will have returned.
(This final screen may also be exhibited as a standalone vertical video, Homeostasis — see below left).
Shown as work-in-progress at SÍM Gallery Reykjavík Dec 2017
More details and a discussion about geoengineering are available in a virtual exhibition featuring the work, curated by the Rachel Carson Center, Munich, in May 2019.
Above: Stills from the CarbFix2 / Climeworks pilot project site in Iceland, 2017. © Adam Sébire
AnthropoScene IV : Adrift (∆Asea-ice) (2019)
What if we could witness our own contribution to climate change?
Citizens of developed countries are increasingly aware of correlations between our lifestyles and the climate crisis: witness the phenomenon of flygskam or "flying shame". Adrift (∆Asea-ice) both visualises and mythologises this relationship, making tangible the direct consequences of a Western way of life.
ABOUT THE WORK:
Climate Change Event Attribution looks for the "fingerprints" of anthropogenic global warming on an occurrence. A relatively new field, it deals in probabilities; direct correlation is often problematic. Psychologically this lets us off the hook. But by borrowing a recent groundbreaking formula from scientists Dirk Notz & Julienne Stroeve (published in the respected journal Science*) the artist-filmmaker is able to calculate and saw off the exact amount of Greenlandic sea-ice that will be destroyed by his carbon emissions (5.23 tonnes of CO₂e) flying economy return from Australia to document it. In visualising his own responsibility and complicity the work touches upon cognitive dissonances that underly our responses to climate change. Disconnects that have kept the problem comfortably abstract for all of us — until now.
The full equation is:
(It states that the area of sea-ice lost equals a constant — derived from research into energy flux at the ice edge — of 3.0 ± 0.3 square metres per metric tonne of carbon dioxide emitted, multiplied by the sum of emissions).
Inserting the artist's own 5.23 tonnes of CO₂ into the equation, this works out at 15.69 ± 1.57 m² of sea-ice that will not regenerate naturally in northwest Greenland come winter. With less sea-ice to reflect sunlight back into space the oceans absorb more heat, contributing to even faster warming of the Arctic.
Adrift (∆Asea-ice) is a video vignette from an Arctic tipping point. Its multiple screens explore causes & effects; here & there; human & cryological time. The work's soundtrack comprises æolian sounds from an empty water tank at the artist's residence at Upernavik Museum that 'sang' when it was windy.

An article exploring the ideas underlying the artwork was published in Flugschriften volume IV (April 2019):
Sébire, A. (2019). Adrift: Attribution & Responsibility in a Changing Climate. Flugschriften, 4 (Dispatches from The Institute of Incoherent Geography Vol.1), 27–38. (Download the complete publication from Flugschriften else view a PDF of just this article here).
Video installation première: Max-Planck-Haus, Hofgartenstraße 8
for Long Night of the Museums, Munich, Germany.
Opening: 19.00, Saturday, 19 Oct 2019.
Multi-screen video art-work for exhibition spaces, duration: 8'05"
➤ Video diptych (2ch) version: 2x 4K screens, 2x media players, stereo audio. Split-screen preview below.
➤ Video triptych (3ch) version: 1x 4K screen; 2x ½-size HD screens, 3x Lūpa media players, stereo audio. Split-screen preview above.

(Videos are embargoed/hidden and only appear here for preview.)
* Notz, D., & Stroeve, J. (2016): Observed Arctic sea-ice loss directly follows anthropogenic CO₂ emission. Science, 354, 747–750.
Filming location: 72° 55' 53.84" N 56° 3' 34.19" W (map)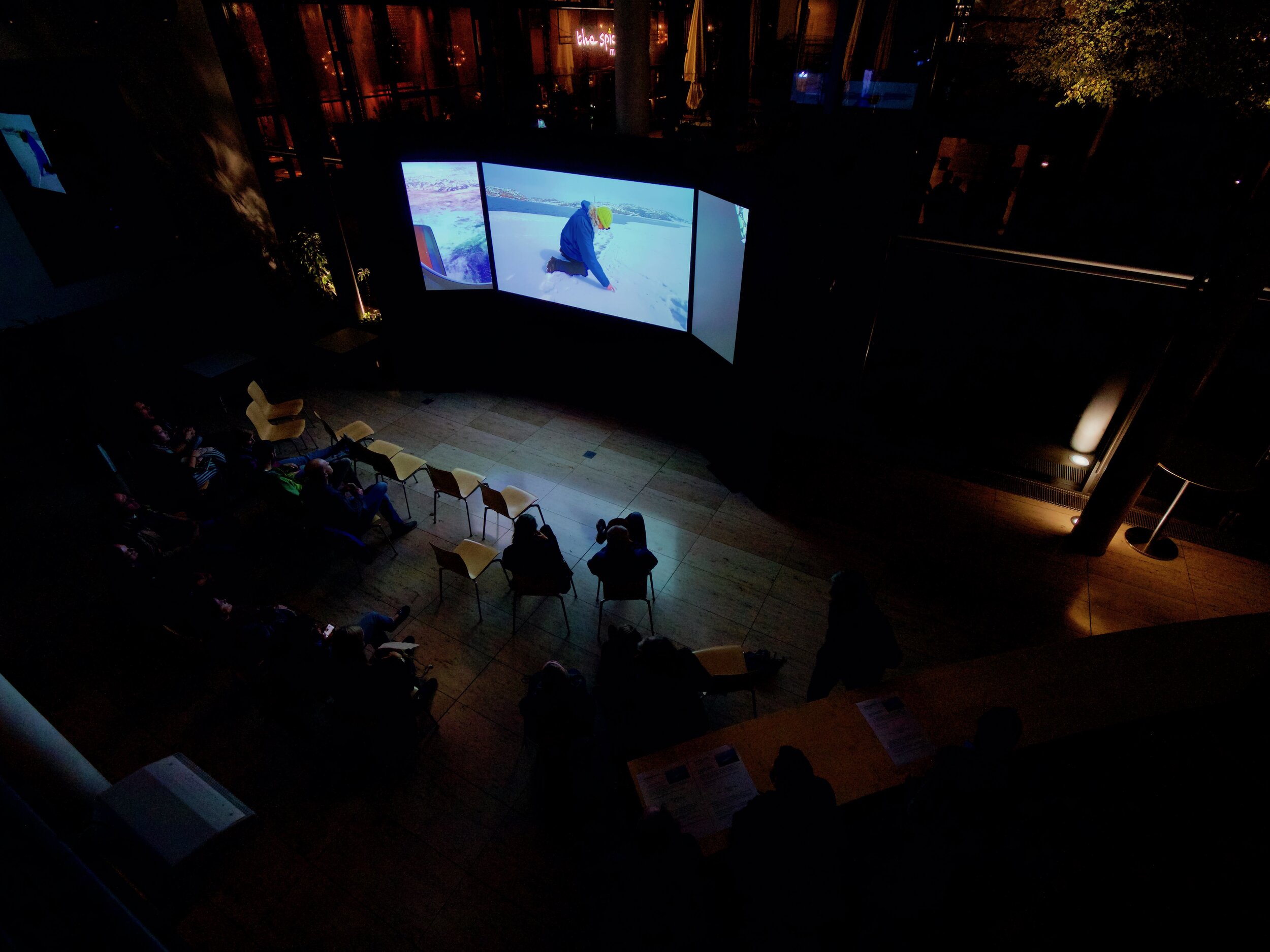 ABOUT THE ARTIST
Adam Sébire studied documentary filmmaking at Australia's AFTRS & Cuba's EICTV before before making films for the Australian public broadcasters SBS & ABC. Since filming on the Pacific nation of Tuvalu for Film Australia in 2003 his work has focussed on climate change, particularly sea level rise.
Adam's works have shown at film festivals including Hotdocs, Montréal World FF, Paris FF, Havana FF, Flickerfest, St Tropez FF, Sydney FF and at the United Nations in New York. Australia's Royal Flying Doctor Service & Sydney Opera House have commissioned numerous works from him. His Roads to Nowhere solo exhibition was presented as part of Head On & Vivid in Sydney's Rocks district in 2012. In 2019 AnthropoScene I: Breakdown was purchased by the UN's climate change body (FCCC). AnthropoScene III: Hellishei∂i was exhibited at the Deutsches Museum in Munich in 2018, and AnthropoScene IV : Adrift (∆Asea-ice) at the Max Planck Institute in 2019. Adam is completing a PhD which explores the problematic spatiotemporal dimensions of climate change through multi-channel 'video polyptychs'. → CV/Résumé (PDF).