A snug & secluded cottage,
offering short-term holiday rental accommodation
in Australia's Snowy Mountains region.
ABOUT COCHABONDDU
Located on a quiet bend of the Little Plains River 27km southwest of Bombala in the Snowy Mountains region of New South Wales, Cochabonddu cottage is in an area well known for trout fishing and platypus viewing.
The Little Plains River, part of the Snowy River catchment, is arguably one of the best rivers in the Southern Monaro / East Gippsland, with good flows year-round.
Cochabonddu is in a rural river valley and former goldfield, well away from main roads, with broad views of the bush and rolling hills. The Cottage is only a stone's throw away from the river which can be seen and heard from the house.
Ideal for fishing and outback getaways, this is a recently renovated and fully furnished two-bedroom cottage retreat comfortably sleeping up to five people in two bedrooms - one with a double bed, the other with queen-size bed and a single. Fresh linen is supplied; just bring your own food.
This fully self-contained cottage has a gas stove in the kitchen, wood and electric heating, bath and shower with gas hot water system, tank and river water, and indoor toilet. Verandahs front and back are perfect for informal meals or just relaxing, bird watching, wildlife viewing and listening to peaceful rural sounds.
The cottage and nearby farm have separate access over a kilometre from the main road, with good bush walking possibilities and nearby National Parks to explore.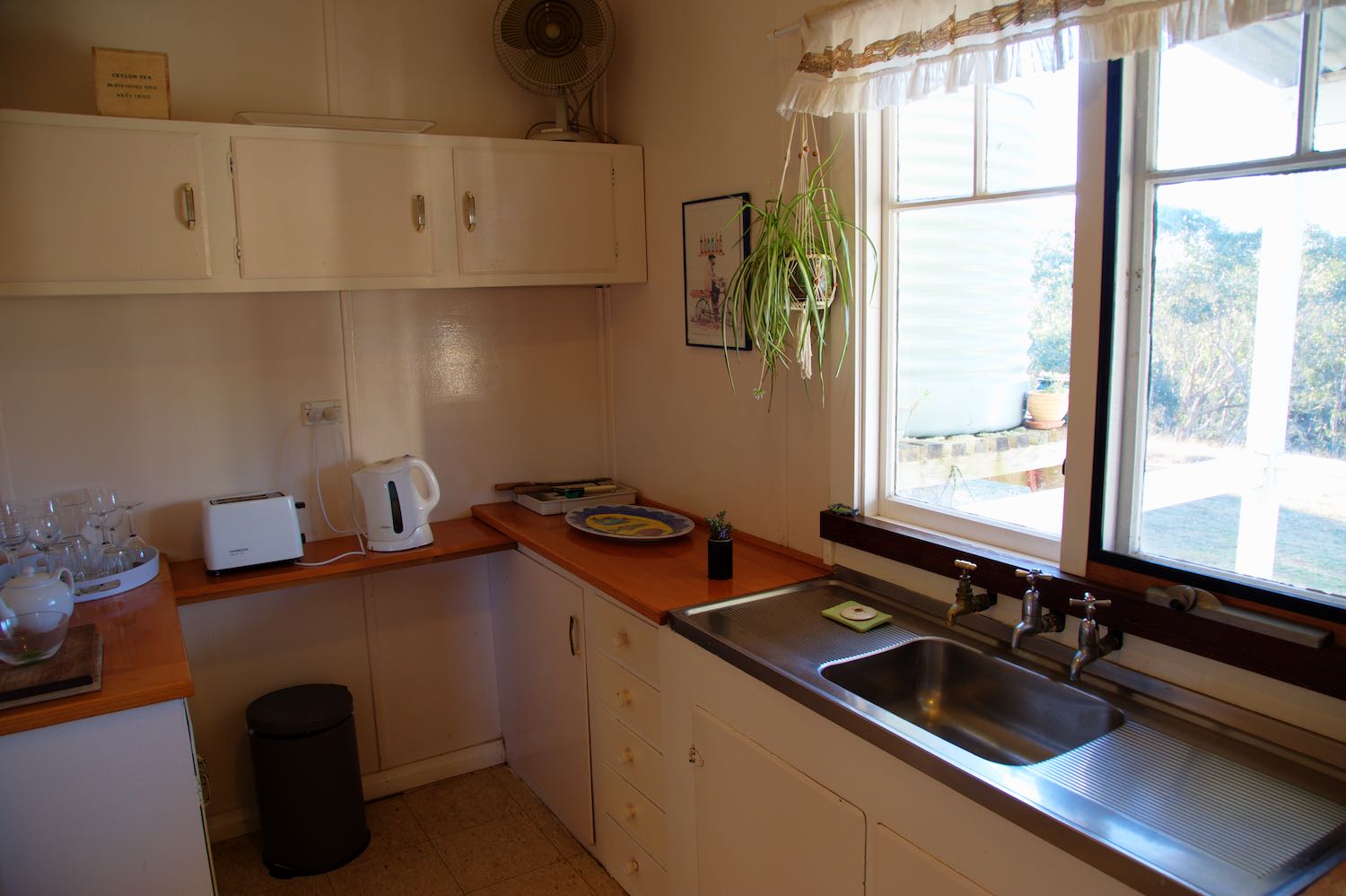 The cottage comfortably accommodates up to five visitors and is surrounded by a pleasant garden.
Approached by its own private road, the secluded location is tranquil, the air is fresh, and on a clear night the starry skies are breathtaking.
Being in the Snowy Mountains region, in winter the weather can dip below zero and snow is not unknown. A fireplace keeps the house warm, and the beds have electric blankets.
The nearest shops are in Delegate (15 km), and Bombala (27km).
AERIAL VIEW (December 2016):
KITCHEN/DINING ROOMS:
Fully equipped with gas stove, microwave, and all kitchen equipment, including a large refrigerator with freezer. There are separate taps for tank and river water. Large refectory table and comfortable chairs.
LOUNGE ROOM:
Couch, lounge chairs, slow combustion fire (wood provided), satellite TV, stereo system with CD player, DVD player, numerous books and magazines, and a selection of DVD discs.
BATHROOM:
Large bath with overhead shower.
TOILET AND LAUNDRY:
Top loading washing machine. Outdoor old style clothesline.
VERANDAHS:
Large well shaded timber verandah with chairs and table at rear. Front verandah with deck chairs.
BEDROOM 1:
Double bed with electric blanket. (Fresh linen provided.)
BEDROOM 2:
Queen-size bed and single bed. (Fresh linen provided.)
MOBILE COMMUNICATIONS:
Telstra & Optus networks have only sporadic coverage but better connections are possible along roads or atop a hill.
RECENT HISTORY
Cochabonddu is situated on "Valona", a fine wool and timber property. Valona homestead was built immediately after World War II and the cottage, in its secluded setting, followed several years later.
The property is on the Craigie Goldfields, a low yielding alluvial field which supported many hundreds of miners - Chinese and European during the 19th century. Remnants of the old water race near the cottage are a reminder of the past.
Craigie, once also known as Chinatown, was a significant township but little remains: a few allotments from the original subdivision late last century, the old school and residence, a hall and several houses. The Anglican Church built in 1894 is still in occasional use.
DIRECTIONS
Turn south (from the Bombala -Delegate Road) 22 km southwest of Bombala, towards Craigie. The turnoff sign says "CRAIGIE 8". After 3.23 km the Valona gate is on the left, opposite Craigie State Forest.
Once you reach the property, please observe the code of the countryside:
- stay on designated roads
- leave gates as you find them
Nearest car hire facilities are in Canberra, Cooma and Merimbula.
To Cochabonddu from:-
Canberra: 2½ hrs via Cooma
Sydney: 5½ hrs via Cooma
Melbourne: 6 hrs via Cann River
Cooma or Cann River: 1½ hr
Merimbula or Eden: 1½hr
2016 RATE
$150 per night (2 night minimum), payable in advance.
BOOKINGS AND ENQUIRIES
Please contact Karren Sebire:
Phone/Fax: 02 6458 7100
Postal address: "Valona", Craigie, NSW, 2632 Australia
e-mail: karrensebire@gmail.com
web: www.adamsebire.info/cochabonddu